Regular price
Sale price
$5.99 USD
Unit price
per
Sale
Sold out
StrikeGum 1-Pack

Test out what StrikeGum is all about with this 1-pack. This pack contains 5 pieces of gum, for a total of 5 servings. Designed for tactical athletes and fitness enthusiasts, StrikeGum is the ultimate pre-workout fuel.

Powered by ingredients like caffeine and Alpha GPC, StrikeGum delivers an explosive boost to your workouts, events, or just everyday challenges. With the Tray bundle, you'll never run out of your favorite gum, ensuring you're always prepared for peak performance.

Portable and convenient, StrikeGum goes wherever you go, whether you're on base, at the gym, or in the field. Each piece of gum primes you for intense training sessions and pushing your limits.

Join the ranks of elite athletes, veterans, and top performers who trust StrikeGum as their pre-workout fuel of choice. Ignite your performance, dominate your workouts, and achieve new levels of strength, endurance, and mental clarity with StrikeGum by your side
$6.99 Shipping & Handling to U.S. international rates vary

Manufacturer : Strike gum by Liquid core
Ingredients :  Xylitol,Maltitol, Gum Base,Natural Flavors, Alpha-GPC, Natural Caffeine, Sucralose, Citric Acid, Niacin,b-6,Vitamin E, B-12
Share
View full details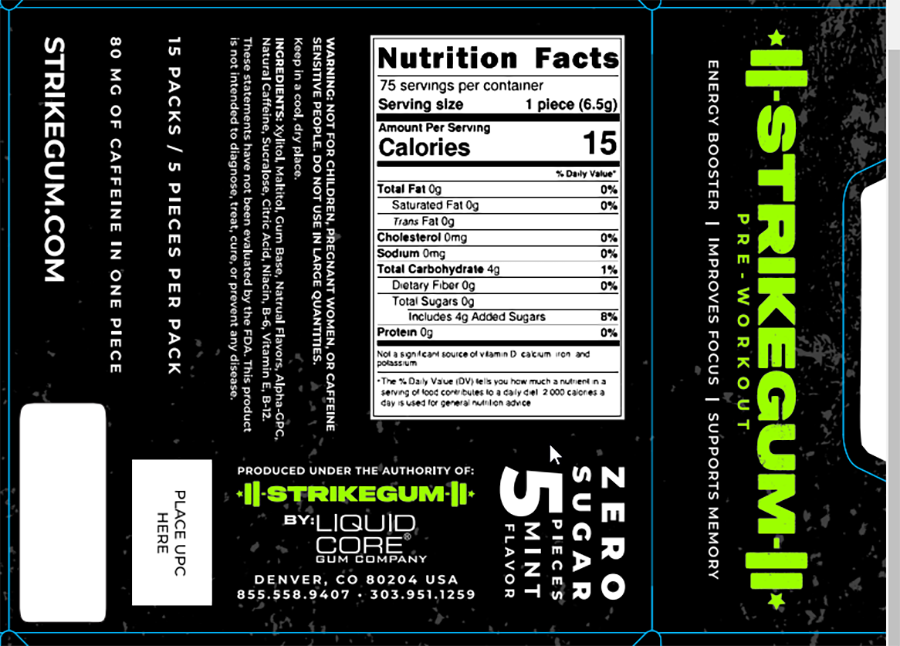 StrikeGum - 1 Pack (5 pieces of gum per pack) - Spearmint
Tastes like toothpaste but I like it!
Great product if you're looking for an energy drink alternative. Also shout out Paul! Lol
Clear Your Mind
Just tried the gum results are pretty remarkable. Clear headed, focused, "dialed in". My mind became nimble and creative which motivated me to get up and get to it. There's no buzz, no jitters... You just feel vibrant.
StrikeGum - 1 Pack (5 pieces of gum per pack) - Spearmint