Regular price
$89.85 USD
Sale price
$69.99 USD
Unit price
per
Sale
Sold out
StrikeGum Tray - Elevate Your Performance, Endless Supply
Experience limitless energy and performance with the StrikeGum Tray. This comprehensive bundle includes 15 packs, each containing 5 pieces of gum, for a total of 75 servings. Designed for tactical athletes and fitness enthusiasts, StrikeGum is the ultimate pre-workout fuel.
Portable and convenient, StrikeGum goes wherever you go, whether you're on base, at the gym, or in the field. Each piece of gum primes you for intense training sessions and pushing your limits.
Join the ranks of elite athletes, veterans, and top performers who trust StrikeGum as their pre-workout fuel of choice. Ignite your performance, dominate your workouts, and achieve new levels of strength, endurance, and mental clarity with StrikeGum by your side.
Manufacturer : Strike gum by Liquid core
Ingredients :  Xylitol, Maltitol, Gum Base, Natural Flavors, Alpha-GPC, Natural Caffeine,Sucralose,Citric Acid, Niacin,b-6,vitamin E, B-12
Not intended for Children
Share
View full details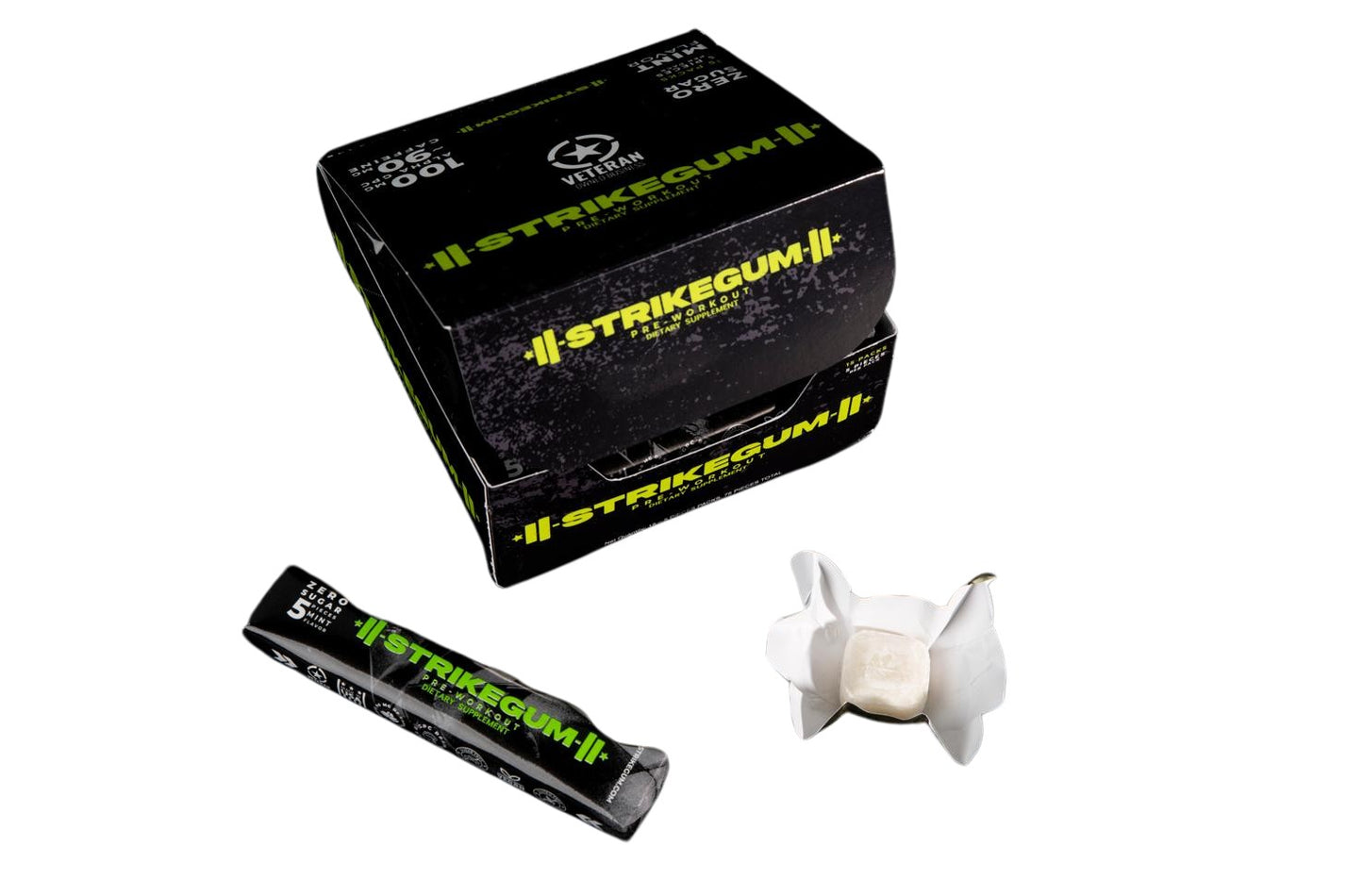 Excellent
Just love it. Before and during my workout, just helps me stay focused and determine to smash out a good session.
Paul - Thanks for spooling up the company and product. It good. Haha and I dont have to "aquire a taste" for bitter coffee and it fits in the glove box.
2nd time buyer.
I was hesitant to try it at first. I wanted to try it out by buying a single pack of 5 gums but the shipping costs to send it to Canada was more than the price of a single pack. Then I got an email with a discount. I used it but I bought a box of 15 packs instead. I really wanted to encourage Paul and I really wanted to help Ukraine at the same time. The gum taste great, it's soft and stays pretty soft for a long time. The taste of mint is strong in the beginning and then fades after a while but even after an hour you can still taste the mint flavor. I love the liquid in the center of each piece of gum also. I've been working overtime at work, 6 days a week and will do so until christmas. I need a small boost sometimes and this gum works great and gives me the boost I need and the focus to do my job.
I hope this review helps.
Tastes better than any other caffeine gum out there
Definitely taste better than most of it's competitors, I've tried caffeine gums before that have a very bad taste masked by a very weak flavor. This still has a little bit of the bitterness (I presume from the caffeine) but I was really shocked at just how inoffensive the flavor was. It's got a liquid filling inside but not a crazy amount, about the size of a skittle or m&m, perhaps a little less.
I think I'll be buying it again! Seems very useful and as I mentioned, compared to the other caffeine gums I've tried from the sports section @ Walmart it tastes waaaaay better.
I frequently eat liquid meals, protein shakes, soylent, etc. So it's hard to have a whole energy drink ONTOP of the liquid food. So for me it's really been a great one-two punch for getting calories and caffeine in me super quick.